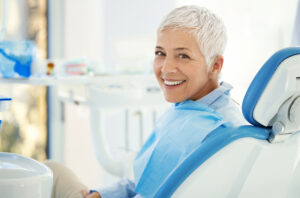 Maintaining your gum health is vital to your overall health. When you visit our Periodontist in Raleigh office for an examination, our trained hygienists perform a periodontal exam. In fact, during your examination, our team is assessing your oral health by checking a number of different factors. Here are the most important things that you need to know about periodontal disease.
A Disease With Many Names
You may have heard periodontal disease referred to as gum disease or gingivitis. Periodontal disease is the inflammation and infection of your gums. These names are frequently used interchangeably.
Signs & Symptoms
Periodontal disease may be marked by swollen and red gums. Bleeding, especially while brushing and flossing, may also occur. Another symptom of periodontal disease is persistent bad breath. Eventually periodontal disease can lead to loose teeth because of loss of the bone structure around the teeth. If you experience any of these symptoms regularly, please contact our Periodontist 27615 office.
The Link To Systemic Health
Your gum health is linked to your overall health. If left untreated, periodontal disease can lead to bleeding gums, gum recession, and tooth loss. The effects of periodontal disease extend well beyond your mouth. In fact, according to the American Academy of Periodontology, the disease can increase your risk of developing heart disease, diabetes, dementia, and stroke.
While you may think of your teeth as the primary reason to visit our Periodontist Cary office for a regular examination, understand that our team is looking beyond your teeth to assess your oral health and potential impacts on your overall health. Talk to our experienced Periodontist in Cary team if you experience any signs or symptoms of periodontal disease.
Our Raleigh, NC Periodontist team is trained to identify signs of periodontal disease. When detected early and managed properly, periodontal disease can be stabilized.  For more information regarding your gum health, please contact our Periodontist Wake Forest office, or schedule a consultation. 
Tar Heel Periodontics and Implant Dentistry
Phone: (919) 844-7140
Url: https://www.tarheelperio.com/
10931 Strickland Rd.
Raleigh, NC 27615