Tar Heel Perio Cares for Veterans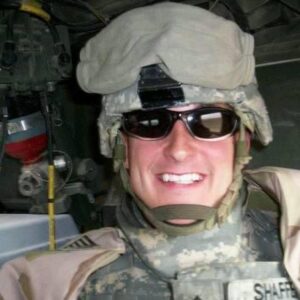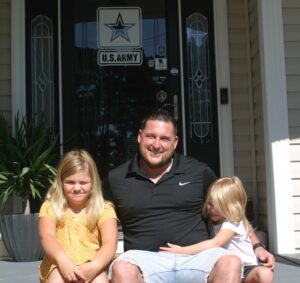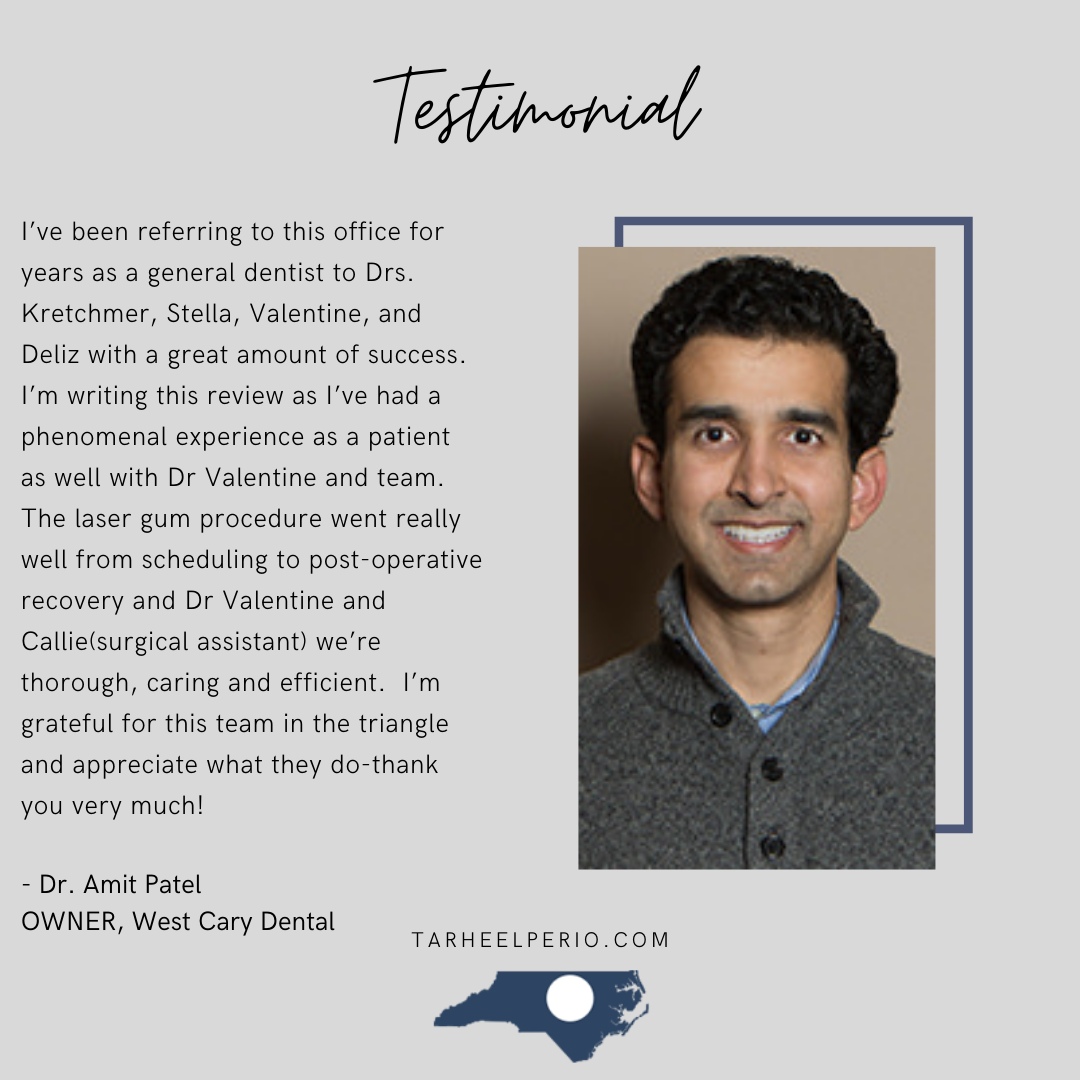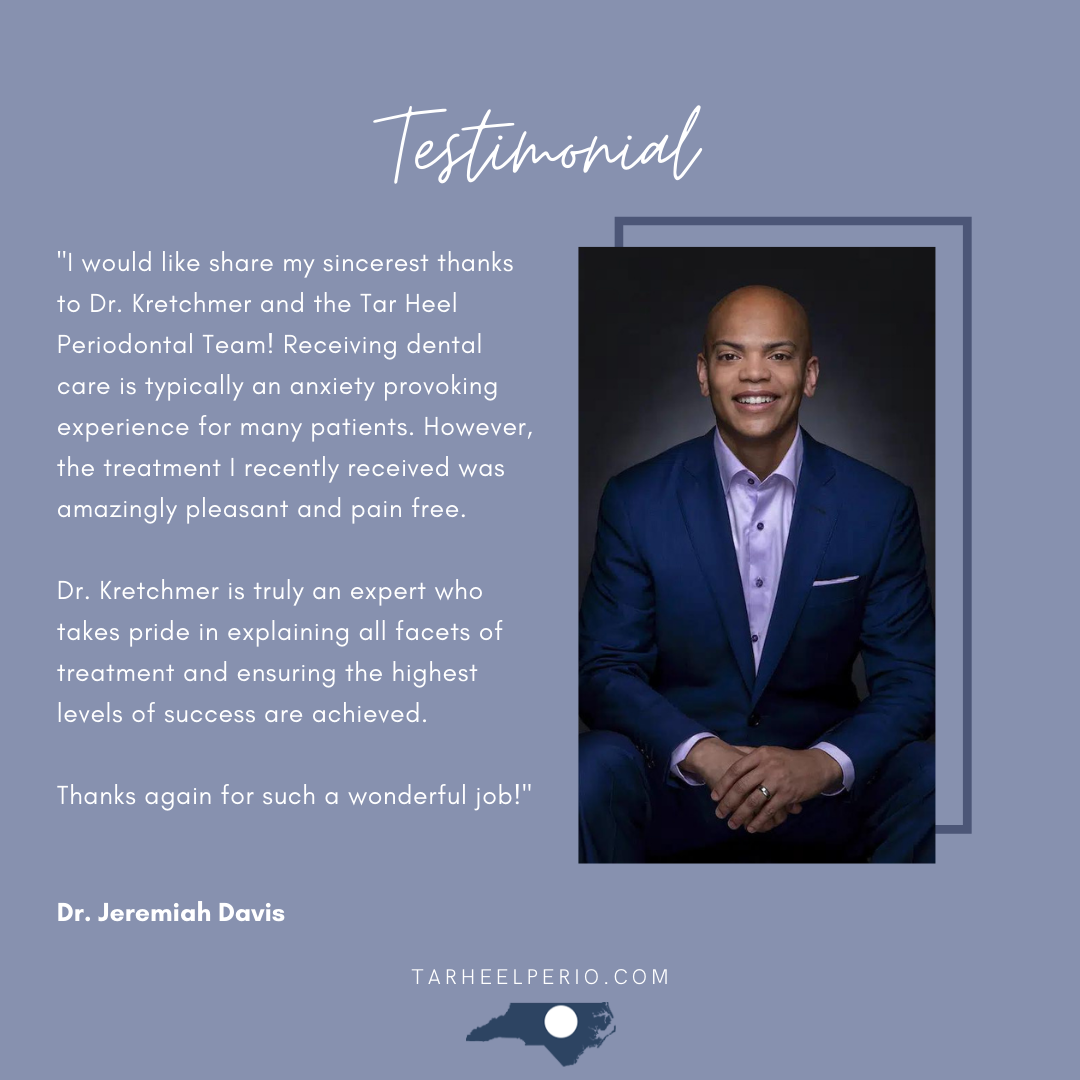 Tar Heel Periodontics and Implant Dentistry
Average rating:
32 reviews
Jan 12, 2022
I came in for a gum grafting procedure and had an amazing experience with Dr. Mehandru, Dr. Stella, and Abbie! All three of them made sure I knew exactly what was going to happen and what they were doing every step of the way, and answered all of my questions. I don't normally love my dental experiences, but this was absolutely the least worrisome procedure I've ever had done and it's thanks to how comfortable they made me and what an excellent job they did with the procedure itself. Hoping I don't need another gum graft again, but if I ever do have any issues, I will absolutely come back to these guys.
Oct 22, 2021
Dr. Kretchmer and Rudy are very professional. They know how to make you feel at ease. The office team are awesome, Ms. Jamie was so pleasant and caring. My entire trip to Tar Heel Periodontics was wonderful. I would recommend them to anyone.
Oct 22, 2021
Dr Stella was fabulous! I needed a graft using donor tissue. The procedure took less than an hour. Recovery was without issue. My gum area looks fantastic— you wouldn't even notice that anything was done. My severe sensitivity in that area is obsolete.
Callie was phenomenal! She is empathetic and caring with a great sense of humor. She is very approachable and willing to answer any questions/concerns you might have. Dr Stella & Callie are a dynamic duo!
Oct 22, 2021
This is a very caring and high quality dental practice and I highly recommend it. I had a difficult gum situation that required special preparation before an implant was placed in it, and Dr. Kerchmer and his team provided exceptional professional care. After each visit, I received calls from either Dr. Kerchmer himself or by Dr. Stella or other staff members to ensure I was comfortable. The administrative staff is cheerful, efficient, and patient-friendly. Five stars plus!!!
Oct 22, 2021
Dr. Stella is outstanding. He is very easy to communicate with and makes certain you clearly understand. He makes you feel like you are his most important patient.
Callie, his dental assistant, is also fabulous. She is very personable and caring. She communicates very well. Callie has a professional personality that helps you relax and know you are getting excellent care..
May 12, 2021
Excellent staff, Callie is the best. Feel that I am well looked after when I am there, very efficient and caring. Dr. Stella is the best.
Apr 29, 2021
Dr. Stella and his assistant Callie are first class!
Apr 13, 2021
I just had two implants completed by Dr Stella. He did an amazing job and I would highly recommend him. He carefully monitored my progress throughout the process and made sure things were going well. He was always willing to take time to answer questions and explain what he was doing.
His assistant Callie was excellent - very caring and professional.
Mar 14, 2021
Great office with caring and personable staff. My gums have been an issue all my life due to a connective tissue disorder. Dr. Stella has been informative and professional in his care of me. His assistant Callie is very attentive and considerate.
Mar 8, 2021
Tar Heel Periodontics are wonderful they have made me feel comfortable . I am glad I was referred to them by Dr. Lee